News
Are Massage Chairs a Good Investment?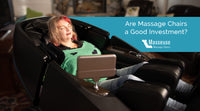 A massage feels amazing, right? 
Daily massage can assist to relieve chronic aches and pains, improve mobility or simply soothe tired muscles from the week's stress. Time and financial costs from ongoing therapist visits, reliance on medications, and putting off the activities that bring joy, all add up to a life with limits. 
Investing in a quality massage chair can provide on-demand therapeutic-grade massage in a variety of styles and in the comfort of your own home.
Long-Term Benefits of a Massage Chair 
A massage chair is a long-term investment in your health and wellbeing. And, you can reap the incredible benefits of a massage whenever you need it.
Increased Flexibility
Supple muscles lead to increased flexibility. This means your body can easily absorb impact, shock and safeguard you from structural injuries and potential muscle strains and pulls. Our massage chairs knead your muscles, making them soft and supple, improving your overall range of flexibility.
Improved Blood Flow 
Massage promotes blood flow and delivers oxygenated blood to help heal sore muscles. This improved blood flow also helps remove toxins from the body. For example, massage assists to remove lactic acid build-up, post exercise, helping you to recover faster.
Our Health+ Massage Chair features Hot Stone Therapy to relieve cold and pain. This can also assist muscle recovery and encourage better blood flow.
Reduced Back Pain
Your body has moving parts; sitting still or slouching at a desk, are both guaranteed ways to get a sore back! Regular massage helps you to relax and ease tension in your muscles.
A daily massage in our Ultimate Chiro Massage Chair can help reduce your back pain. The Ultimate Chiro features an extra-long SL-shaped curved rail which provides fuller coverage for a far more comprehensive massage that contours to the natural shape of your spine.
Improved Posture
Your posture is critical when it comes to the health of your spine, neck and shoulders. Misalignment can lead to neck problems and vertigo or affect how you walk, leading to leg and hip issues. A therapeutic massage in one of our massage chairs, at the end of each day, will help you maintain optimum posture and body health.
Long Lasting Massage Chairs
You want to feel assured that a massage chair is going to last. Masseuse Massage Chairs are manufactured to the highest Australian standards and feature durable, long-lasting materials, and a solid construction.
Latest Technology and Health Features
Our chairs feature the latest technology including:
Full body AirSpa

®

Massage - air cushions 

that wrap around and massage your arms, shoulders, legs and feet to relieve tension and improve circulation.

Reflexology Rollers -

sole rollers that focus on major reflexology pressure points to alleviate any pain or discomfort.

True Zero Gravity - a position which takes all the pressure off your spine, allowing you to finally feel pain free and truly relaxed.

Hot Stone Therapy - to relax the body and melt away tension in your back, waist and calves

.
Learn more about the technology in our massage chairs here. 
Long Lasting Materials
Masseuse Massage Chairs are designed and manufactured by world-class engineers.
Our range of chairs feature PU Leather: a durable, leather alternative. They are easy to clean and maintain and don't dry out or crack over time. PU Leather is also vegan; so it is sustainable and better for the environment too!
After Sales Service Team
Masseuse Massage Chairs prides itself on 5-star customer service.
If you feel that our massage chair isn't right for you, we offer a 40-day, hassle-free, money back massage guarantee.
If your chair requires maintenance, we have qualified service and repair technicians to diagnose and fix any issues.
We offer a complimentary 3-year warranty or an option to upgrade to a comprehensive 5-year Platinum Warranty.
Massage Chair Finance Options 
Investing in a massage chair and your health and wellbeing will, over time, save you money from regular visits to therapists.
We offer flexible, buy-now-pay-later options with Humm.
Humm Finance
We have partnered with Humm, a buy-now and pay-later finance provider. Through Humm, you could have on-demand massages, in the comfort of your own home, from just $19 a week.
You can choose an interest free payment plan that suits your needs. Learn more about Humm finance here.
Our massage chair specialists are always on hand to help with any questions that you may have in relation to finance options. Call 1300 054 055.
Upfront Payment 
You can also elect to pay upfront for your new massage chair. While it's easy to set up a payment plan, upfront payment means that you will have nothing to worry about except how long until your next massage!
Massage Chair Warranty Options
To protect your investment, we offer a complimentary, 3-year warranty.  We stand by the superior quality of our chairs, and back it up with an industry-leading warranty for your piece of mind.
Free 3-Year Warranty 
Our 3-year warranty protects you from:
Manufacturer defects.

Motorised, mechanical and electrical parts damage.

Reasonable fabric wear and tear through proper use.
If you live within a metropolitan zone, this warranty is provided as a free in-home service. 
Extended Warranty Options
If you prefer an extended, more comprehensive warranty, we offer an industry-leading Platinum 5-year warranty.
This warranty offers all of the benefits of our 3-year warranty, for an extra 2 years. 
Plus, we will cover the costs of any replacement parts and labour required to repair your massage chair.
Invest in your Health Today with Masseuse Massage
Ease chronic pain, reduce anxiety and stress or even extend your sporting career, with a premium massage chair from our world-class range. You're also welcome to visit us at any of our premium showroom locations around Australia.
Let us help you get back into life with a Masseuse Massage Chair. Your masseuse is waiting!