News
Massage for Sports Recovery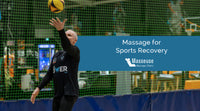 If you are an athlete, fitness enthusiast, or someone who plays recreational sports, you are well aware of the toll continuous physical exertion can take on your body. A massage can be great for sports recovery and can even become a part of your training regimen for numerous long-term benefits.
Masseuse Massage Chairs offer premium massage chairs that provide professional-level massages from the comfort of your own home, at any time. A worthy investment for those that take their health and fitness seriously, continue reading below to discover how a Masseuse Massage Chair can improve your quality of life.
Benefits of Massage for Sports Recovery
A massage is a great way to prevent post-workout complications and help the body recover faster. Using massage to recover from normal wear and tear has tremendous positive effects on the body and mind. Some of the benefits of massage for sports recovery include:
increased blood circulation

decreased inflammation

enhanced flexibility and mobility

helps alleviate pain

relaxation and stress reduction

aid muscle recovery

reduced muscle tension

improved healing of connective tissue
Types of Massage Techniques for Sports Recovery
Several massage techniques are commonly used for sports recovery. Each offers specific benefits for athletes, depending on their needs. Some of the most effective types of massage for sports recovery are:
Swedish Massage

: This gentle, relaxing massage technique involves long strokes, kneading, and circular movements.



Deep Tissue Massage

: More intense than Swedish massage, this technique uses slow and firm pressure to target the deeper layers of muscles and connective tissues.



Sports Massage

: Sports massage is specifically for areas of the body that are overused or stressed during sports activity.



Trigger Point Therapy

: TPT involves applying pressure to the tight knots in muscle tissue that can cause referred pain and restrict movement.
Massage Timing and Frequency
For a massage focusing on specific muscles, a 20-30 minute massage should be enough. If a full-body massage is desired, a 60 minute session is recommended. Depending on the frequency and intensity of your sports activity, a massage may be needed once or twice a week to once or twice a month.
Remember, sports recovery massage is just one aspect of recovery for athletes. Proper nutrition, hydration, adequate rest, and appropriate training techniques also play crucial roles in maintaining peak performance and minimising the risk of injuries.
Precautions and Considerations
Just like in exercise, you don't want to overexert yourself during massages as injury can occur. Everything in moderation is a general rule to follow. You should be aware of your pain limits and do not immediately massage acute injuries. Be sure to get adequate rest and hydration before and after exercising.
Massage Chairs for Sports Recovery
The Masseuse Massage Chairs range is perfect for sports recovery massages. With techniques and benefits that mirror those of a massage therapist, you can get on-demand professional-grade massages, in the comfort of your own home, after sports activity. 
Our massage chairs are an investment in health and wellness. Choose from the ProductReview.com.au 2023 Award Winner: Ultimate Chiro®, Health+ or the Therapeutic Dual-Pro™ for the best massage for sports recovery. 
Ultimate Chiro® Massage Chair
The Ultimate Chiro® Massage Chair features a luxurious, yet ergonomic design. Its many features include SL-Track Technology and Zero Gravity: a NASA inspired recline function that activates at the click of a button and is the optimum position to release muscle tension. SL-Track Technology allows for a more comprehensive massage of your different muscle groups with a 135 cm rail that contours to the natural curve of your spine.
Health+ Massage Chair
The Health+ Massage Chair features an automatic body scan that will scan your body to give you the best massage experience, tailored to your needs. 
With six automatic and five manual massage techniques, you can customise your massage experience to target the specific areas you need after intense sports or exercise.
Therapeutic Dual Pro™ Massage Chair
The Therapeutic Dual-Pro™ Massage Chair is for the athlete that takes their rest, relaxation, and health seriously. Featuring one of the largest massage zones on the market, Hot Stone Massage therapy, and 135 cm Advanced Flexi-Track™ Rail technology; this chair gives you a customised deep tissue massage. This technology allows you to experience a full body massage that can be focused on a specific part of your body.
With its sleek and modern design, the latest and greatest features, and advanced technology, the Therapeutic Dual-Pro™ is the world's #1 massage chair. This chair is for those who enjoy the finer things and want the best massage for sports recovery on the market.
Hear From Our Customers: Bryan's Story
Commonly Asked Questions for Sports Recovery Massage
FAQ 1: Can massage therapy help with muscle soreness after intense workouts?
Yes. Massage therapy is a great way to relieve muscle soreness post-workout.
FAQ 2: Is it okay to receive a massage before a sports event?
While an intense, full-body massage is not recommended before sports activity, a light massage to warm the muscles up can prove beneficial.
FAQ 3: Are there any specific massage techniques for targeting certain muscle groups?
Absolutely. Advances in technology, coupled with a better understanding of muscle groups and how they work, have led to advances in massage therapy to target these groups.
For example, kneading and compression are great for quadriceps, friction techniques are perfect for the deltoids, and effleurage is a great technique for the calves, trapezius and rhomboids, to name a few.
Browse our Range of Massage Chairs Today
Masseuse Massage Chairs has a great range of massage chairs for sports recovery massage. There's a reason why over 20,000 Aussies choose our chairs.Browse our massage chair collection today or call us on 1300 054 055 and let us help you find the perfect massage chair.